Click Here for More Recent Events and Posts
---
---
Added 16 Jun 2017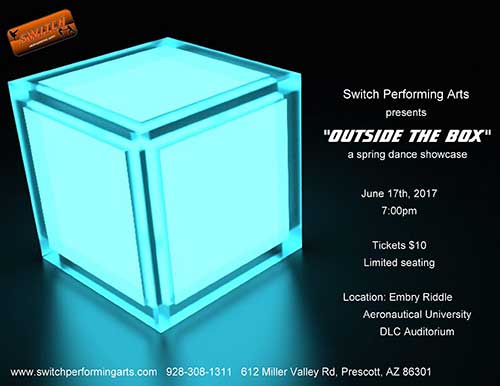 Hint – I am in the back row.
Hint – closest to camera
Hint – rolling onto stage From Leo Gallegos, veteran choreographer and performer – including 5 dancers, and myself, veteran choreographer and performer, who were all invited as choreographers, and performers in the First Annual Northern AZ Boys & Girls Club "Dancing for Our Stars", April, 2017. I performed in the opening, the Adv. Ballet, and closing above. All choreographed by Leo Gallegos. I have taught for SWITCH Perf. Arts since 2014. Current session HERE! Come train, express, and do art in mind, body and spirit like you have never done before!!! All rights reserved for syntax of choreography with music.
---
---
Added 31 May 2017
Here's something from "DANCING OFF THE FOG", an article recently published at QuadCities.com, for which Mary was interviewed:
"Dance is the movement art with the most unlimited diversity in motion and vocabulary for any human to do," says Mary Heller, dance instructor at locations such as Prescott's Alta Vista Senior Living"
You can read the entire article
here
.
---
---
Added 23 Apr 2017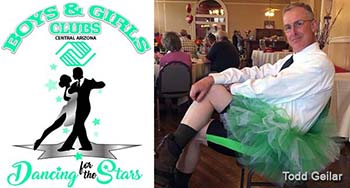 The 1st Annual Dancing for the Stars was such a crazy, fun show to work towards, and perform! The celebrity I was paired with, Todd Geiler, had me laughing at every rehearsal!
We won in the "Best Comedic" dance category. Flipping at 50 years experienced! The song we performed to is "Cruise", by the Florida/Georgia Line.
Support your local, nationally known, full-time Dance Educators and Choreographers in Prescott!
YAY for raising over $100,000 for the kids! Read the article in the Prescott Courier here. Our performance begins around the 1:40 mark.

---
---
Dance is thoroughly honest : whatever time, and mindfullness you put into it, is EXACTLY what you will receive back in health of mind, body and spirit!" Mary
29 year full-time, veteran, professional Choreographer, Teaching Artist, Educator, Community Engaged Artist, Dancer, and Scholar
University of Idaho Professor in Dance 2006 – 2011, Moscow, ID
Click Here to See Mary Heller's Curriculum Vitae
Certified Artistry 2 of BeMoved® Instructor, and
Certified Gentle BeMoved® Instructor
(Picture below: Unlike class, on a parallel supporting leg, and using non squared shoulders so as to balance on a small area of rock, LOL! Master technique to play with it!)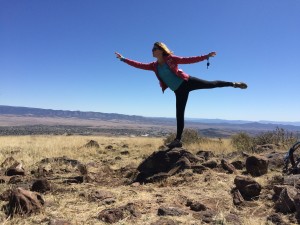 "DANCE – The Movement Art with the most unlimited diversity in kinetic, dynamic vocabulary for ANY human to do, and thus, challenged just enough through mind, body and spirit. It improves up to 76% more then any other activity in cognitive development when one follows dance movement. Of course it's also exercise with EVERY benefit there is, (including challenging balance, strengthening ALL of the core muscle groups, aligned, active isolated stretching (AIS) with gravity and barres, high intensity interval training (HIIT), AS WELL AS an Art where one gets to FULLY express, and release through the spectrum of emotions. Dance IS one of the oldest therapies, and practices humans have done together in every culture for millions of years for daily self transformation, healing, and experiencing the divine love, and JOY, in oneself, and others. Thus, meet, and release fears of dancing, of moving, take risks in a safe space, and learn to trust your body. Be inspired through this transformative experience incorporating powerful ancient, and modern healing. Clear old stories that no longer serve you, and create new stories through dance." Mary
In deep gratitude! Love Dancing with you all!
• E-Motion – How Your Emotional Baggage May Be Sabotaging Your Health,
and What To Do About It. Dr. Mercola – See HERE!
• Dance and Music alter the brain in opposite ways – which also compliments each other!
See HERE!
• DANCING MAKES YOU SMARTER (Download as PDF)!
• Break the Addiction to Negative Thoughts & Emotions to Create What You Want –
Dr. Joe Dispenza – See HERE!
• Dr. Christiane Northrup explains how beliefs and buried emotions lead to disease –
See HERE!
---
---
Come Share Ground with me!!
Mary's international choreographic project between artists on the southside of Chicago, Prescott, AZ, and Baghdad, Iraq over real-time, two-way live feed!!!!
Launched promotionally at Juneteenth in Phoenix, Sat., June 18, 2016, 4-8pm!!!

Looking for the next big technology to INVEST in that will LAST,
while also having multiple effects in
philanthropy, gun safety, A.C.E.,
the art of dance, a professional, full-time dance company based right here in Prescott,
and hundreds of teens, and adults in two countries, and three locations?
See More HERE!
---
---
Summer 10 wk. session of BeMoved® begins May 15 – July 21, 2017
(Fall Session begins Sept. 5)
Spring 8 wk. session of BeMoved® begins Monday, Feb. 27th. – April 22nd., 2017!
All scheduled absences can be pro-rated to fit your lifestyle!
Join anytime!…or just Drop In!
Click HERE to read descriptions of all the genres for BeMoved®.
Don't see a class that fits your schedule, email Mary for a day/time you want.
If you, or she, knows of four more people who want to do it, AND a space is available, we will do it!
Do you have 10, or 20 more people wanting BeMoved®, or Gentle BeMoved® for:
• Weekly, monthly classes in your location?
• Wellness in the Workplace to increase substantially productivity?
• At a location Mary already teaches these classes at, (space allowing)?
Register with a group for deep discounts on BeMoved® or Gentle BeMoved®! –
10 person group discount: $6/person/class
20 person group discount: $5/person/class
BeMoved® Dance does GimmeFive ELLENTUBE.COM
---
---
MEN, WOMEN, TAKE THE ULTIMATE TEST IN ATHLETICISM!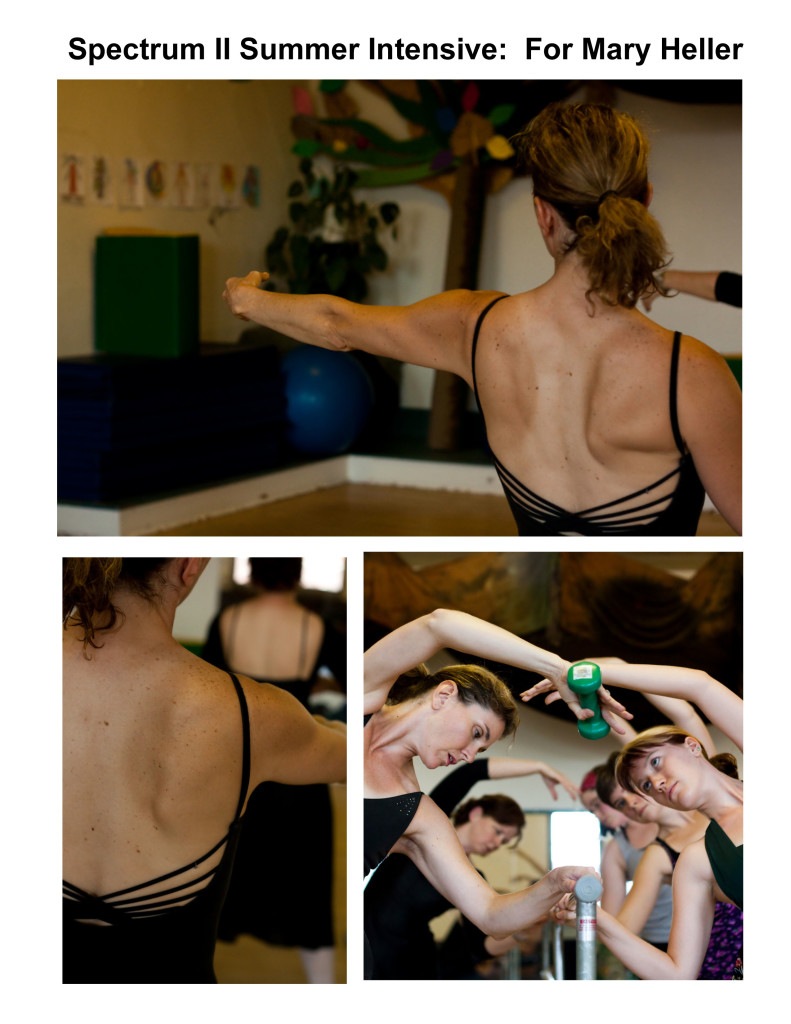 Please contact Mary if you ever want a multi-generational ADULT, safe, active isolated stretch, strengthening Ballet, Modern, Contemporary, Jazz, Improv, Contact Improv, or Creative Movement technique dance class.
Mary currently offers a Tap Workshop, and Heller Barre Practice® in technique classes.
Mary also teaches the methodology of Creative Movement, (for learning other subjects within the classroom space), while building self-discipline for ALL eight learning
intelligences, including special needs, to K-12 teachers for in-service days!
29 years experience, kinesiology based.
---
---
Mary has been featured on AZTV Morning Scramble part 1, part 2, invited to speak on NPR/Prescott Arts Beat, Prescott Valley's KQNA's radio's Get With Life show hosted by Dr. Bennett – Listen HERE!!, (Mary begins at 10:40 minutes into episode 39, 3/26/16 program), KQNA 1130 AM regular show, Prescott Parent Magazine, and has been in the Prescott Courier Newspaper.
Mary has been invited to do BeMoved®, and Gentle BeMoved® at The Prescott MS Society, Prescott College, N1Health, Mountain Valley Regional Rehabilitation Hospital, and Yavapai Regional Medical Center for the Better Breathers Club, and the Healthy Lung Expo, in Prescott, and Prescott Valley, AZ.
Mary is a provider for Senior Connection.
Gentle BeMoved®, which is an authentic BeMoved® Dance experience for individuals of ALL ages with diverse physical, intellectual, and emotional capacity.
Mary has provided Gentle Bemoved® for independent living at Bloomdale Senior Living Solutions, The Prescott Adult Day Care Center, Alta Vista 2014 – 2017, and at their 24 hour care facility, Canterbury Village, both in Prescott, AZ. She also has run a session at Granite Gate, Prescott, AZ.
Mary's Your Movement is Your Biography is in line with the Creative Aging program of Arizona.
Arizona's Creative Aging partnership. SEE HERE the Summit on Creativity and Aging in America, in collaboration with the 2015 White House Conference on Aging held May 18th, 2015 at the National Endowment for the Arts.
Click Here for More Recent Events and Posts