I have grown up coming to Prescott from Chicago since I was a baby, for 51 years.  My great grandpa, Charles Born, won the family house in a poker game upstairs at the Elks Theatre in Prescott, AZ ninety years ago.  This is when he was the first manager after the Elks Lodge. Learn more about the Born family in the book "The Early Days of Prescott". I have been based here since 2013, and happy to serve people everywhere in what my decades-of-experience "calling" is: Choreographing, and educating in Dance! The Born family provided a lot of great things to the community, like Great Uncle Ernie Born in medical care, and now Dance education, choreography – concert, commercial, or for community! – Mary
Mary Heller was Full-Time Lecturer in Dance at the University of Idaho from 2006-2011. Originally from Chicago she earned an M.F.A. in Dance from Florida State University. Ms. Heller is a veteran dance educator and scholar who has taught in studios, middle, high schools and Higher Ed nationally for 30 years. She teaches Ballet, Pointe, Jazz, Modern, Contemporary, Tap, Improvisation, Contact Improvisation, Choreography, Dance Theory, Dance History, Dance Pedagogy, Dance Production, and Creative Movement, including training veteran k-12 Teachers, and Physical Education, Early Childhood Education, and Dance Education Pre-Service Teachers in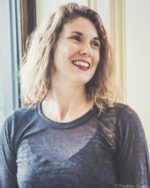 this methodology. In somatics her specialty is Heller Barre Practice®, (a Floor Barre informed by Kinesiology, Pilates on the reformer, Gyrotonics® on the tower, Ashtanga Yoga in the Vinyassa Style, Anusara Yoga, Breathing techniques, Fred Alexson Floor Barre, Karen Williamson Floor Barre, and Homer Bryant Floor Barre). Many of these classes Mary has taught to numerous ages starting at two years old on up through Senior Citizen, boys, girls, men, women, amateurs and professionals. Mary is a guest teacher for Prescott College, and an invited teacher at SWITCH Perf. Arts, Prescott, AZ as needed.  As a Wellness Advisor for 30 years she meets one-on-one as well as offering a retreat, Change Health, Gain Wealth. Mary is an invited board member of the Arizona Dance Coalition.
Mary danced professionally as a principle dancer in Winifred Haun & Dancers, (as well being a founding member), Ballet Entre Nous, and American Danz Theatre all based in Chicago. She was on company scholarship with the international Joseph Holmes Chicago Dance Theatre which was housed at 18th & Halsted, Pilsen area, southside, Chicago, and performed/understudied many established and created works of the repertory. She is the Artistic Director and principle choreographer of her own professional pick-up dance company, Sharing Ground; an original professional dance/music work between artists in Iraq and the US through two-way live feed. Ms. Heller has danced in the repertory of such choreographers as Randy Duncan, Jim Clouser, Susan Marshall, Jawole Willa Jo Zollar and Bill T. Jones, (first female to perform the principle lead role in the classic "Continuous Replay"). Her own repertory of work has been performed in Arizona, Chicago, Colorado, Florida, Georgia, Idaho, Ohio, Utah, Washington, and South America.
In 2005 she was selected by Suzanne Farrell as her assistant, and student rehearsal director for FSU's re-staging of George Balanchine's Western Symphony. Mary was the Rehearsal Director for Susan Hadley's guest work Class, as well as both Rehearsal Director and performer in Sherry Zunker's Sing, Sing, Sing, both of which were created on Dancers at UI in 09', 10' and 11'.
For eight years Mary was the original director, co-director and instructor of the Buffalo Grove Dance Center at the Buffalo Grove Dance & Gymnastics Center in Buffalo Grove, IL. She trained U.S.A.G., competitive level 5-10 girl and boy gymnasts in dance technique at the Buffalo Grove Gymnastics Center, 3 years at Bartlett Gymnastics Center in Bartlett, IL, 3 years at American Academy Gymnastics, Wheeling, IL., 1 year at International Gold Gymnastics in Tallahassee, FL, 3 years at Palouse Empire Gymnastics, Moscow, ID, and has continued to do so each consecutive summer at BGGC since 1994. Mary has been honored to be invited to choreograph for one of the regions great gymnastic clubs, Prescott, AZ YMCA Gymnastics, for the last two years. She has choreographed level 7-Elite/USA team, U.S.A.G. competitive girl gymnastic floor routines for 23 years. Over 260 of these routines have placed first at State, Regional, National and International competitions. They have traveled the U.S. with one routine touring South America, and one being an Olympic Alternate.
Mary supports Dance Flash Mobs everywhere in bringing the experience of dance as art, and as part of an active healthy lifestyle for people in their daily lives all over the world. Mary organized, choreographed, rehearsed and performed in Moscow, Idaho's first flash mob Sept. 2011.
She is an advocate for the means to the end of all our movement to be about aligned, kinesiology sound, meaningful, accessible, fun, community awareness experiences whereby self discovery, art, exercise, physiology and cross cultural learning are deepened by such experiences each day.
Mary enjoys bringing the artistic experience of dancing to non-professionals as well. She has facilitated using the art of Choreography for homebound, as well as others of all ages in assisted living communities, tell their stories through their own authentic dance vocabulary. Recently she was invited to be the Choreographic Teaching Artist for HeART on Wheels by the Meals on Wheels of Prescott, AZ. Mary is certified in Artistry 2, (highest level), of the première national Dance Experience, BeMoved®, for ALL ages, and movement abilities, and Gentle BeMoved®, an authentic BeMoved Dance experience for individuals of diverse physical, intellectual, and emotional capacity, both designed by Sherry Zunker. Mary taught seven classes a week from Sept. 2011 – June 2012 in Moscow, ID. She is very excited about continuing to offer this practice to the world, since Sept. 2013 in Prescott, Jan. 2014 in Prescott Valley, and Sept. 2014-2017 Chino Valley, AZ!
Mary was an invited choreographer, and performer for the Northern Arizona Boys & Girls Club's 1st. annual Dancing For The Stars show, which aired April 2017, and won "Best Comdedic" with partner Todd Geiler. This year she has been invited again, this time partnered with Sam Shapiro. To know when tix go on sale, and to vote for Mary & Sam, and the kids, go HERE.