Please click Heller Barre Practice for more info. as to what this decades Dance Industry somatic work is!
Move like a fluid athlete
Aug. 2016 Testimonial
"It's been weeks since I took Mary's Heller Barre Practice class, and what I discovered about my body during that time  was amazing.
I do have an innate ability to move with confidence – – to walk or even run a bit if I want to. To stoop, to bend, even to use good balance.
I discovered all that through the weeks of the class, and I was better able to walk with greater comfort as well. Now, sometimes I was a little sore the next day…which makes me think taking it twice a week would be even better as I tend to practice little on my own.  The greater confidence I gained in my movement, particularly walking, was well worth the time and effort! Thank you, thank you, Mary!"
Barbara, 64 years old
15 yrs – adults of ALL ages
Contact Mary for sitting chair barre as well!!!
---
Click this link to see a peak of what we do in Heller Floor Barre, AND another secret as to why the
CUBS won the 2016 World Series!!
Jason Hammel
Jake, and a few other teammates do Pilates on the reformer. See more HERE……an example of what we do on the floor, and with the barre in the advanced levels of Heller Barre Practice.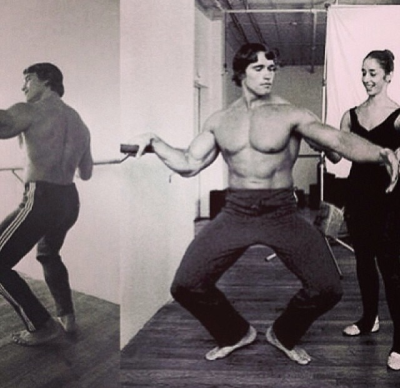 ALIGNMENT IS KEY TO ALL GAIN, RELIEVING PAIN!
You CAN change your body's structure. I HAD to change my skeletal alignment over 30 years ago, safely, and over time, to have the professional performing dance career I did.
Over time change your skeletal alignment through:
• muscle memory conditioning,
• aligned, deep, belly-of-the-muscles, active isolated stretching (AIS), WITH the use of gravity, and barres,
• integration OF KINESIOLOGY awareness into other movement practices, and/or everyday movement you do.
Floor, bands, barre, gravity, alignment, focus, breath, knowledge, critical informational feedback, feeling JUST the core, loosing the rest of the tension, all leads to muscle memory to KEEP great alignment. No matter how fast of a decision you must make in any movement, this alignment is there for you!
I have taught Heller Barre Practice® to pre-pro, pro male and female Dancers, U.S.A.G. competitive Level 4 – Olympic alternate women, and men gymnast athletes nationally, as well as lay people who want to lift weights, power lift, garden, or live more mobile without pain, or risk of injury.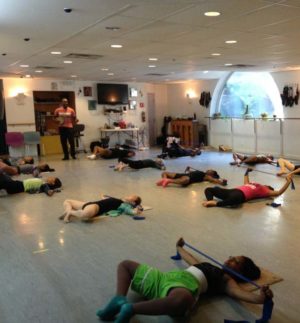 Homer Bryant teaching his floor barre, one of four Mary trained in.       
---
– Heller Barre Practice® INTRO/LEVEL 1
This somatic class can be perfect for those with back, leg or foot pain because they are done lying on the back.
Bring your mats/towels for under just the hips, and socks.
---
– Heller Barre Practice® LEVEL 4
(pre-requisite: must have taken at least three Heller Barre Practice classes, or one private class in any past session. We DO go to our feet in this level, use theraband resistance, and more complex application.)                                                                                                                                   
---
More then two people affordable Prescott, group classes by request.
$20/hr. or $15/hr. and a half, when doing at least one class a week for five weeks in a row.
PLEASE CONTACT MARY FOR PRIVATES ($55/hr), OR semi-privates ($40/hr).
---
Register HERE!  
NOTICE – Purchase all classes, and sessions in class FOR NOW!
Switching to a new online store is taking time.
Thank YOU for your patience, and understanding.
In gratitude!
---
WHERE: Heller Barre Practice® can be done in your home due to me carrying my own million dollar liability insurance.
or
WHERE: Prescott Movement Collective, 612 Miller Valley Road and Osburn St., Prescott, AZ 86301

or
WHERE: Elks Theatre Performing Arts Center, second floor, easy access elevator, and ramped, dance studio entrance! 117 E Gurley St., Prescott, AZ
or
WHERE: Chino Valley Community Center, 1527 N. Road 1, east Chino Valley, AZ