WHAT: Click on Prescott Parent Magazine for Mary's article, as well as Mama Melanie's article, page. 38, Prescott Parent Magazine Feb./March. Both are on Creative Movement in their Dec./Jan. 2017, and Feb./March editions!
See research about the art of dancing, and wiring young brains, autism, and Neurodegenerative Disorders, HERE, HERE, HERE, and HERE.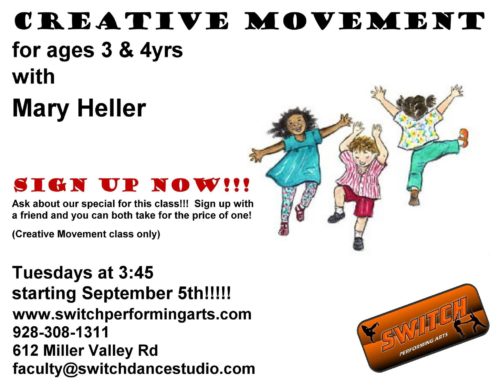 In Creative Movement, kids learn cooperation, with others and with their own bodies! Learning new ways to move with their body and express their own ideas through movement gaining valuable "time", "space" & "energy" elements as the foundation for all the thousands of dance forms on the planet -invaluable for cognitive development! Read more at CreativeDance.org.
AGES: late 2.5 year olds to early 5 year olds — boys & girls, potty trained.
WHEN: Sept. 2017 – May 2018, Tuesdays, beginning Sept. 5, 2016
no class Tues., Dec. 26. 2017 – class resumes Tues. Jan. 2, 2018
TIME: T.'s  –  3:45 – 4:45pm
Join any week, or month during the year!
COST: $50 a month
For questions and registration  click on SWICTH Perf. Arts 
WHERE : WHERE: Prescott Movement Collective, 612 Miller Valley Road and Osburn St., Prescott, AZ 86301
Prescott Movement